budget
Dollar Tree Camping Supplies Complete A to Z List
We may earn money or products from the companies mentioned in this post.
A Dollar Tree Camping Supplies list? With the aid of the global COVID-19 pandemic, camping is up over 800%. That means a lot of people are out there, trying to have fun with their families, and probably doing it on a shoestring budget.
Not everyone can drop $40,000 on an RV and take that fully loaded baby from site to site – some are in the world of pop-up campers or even tents! Camping supplies from big-name businesses can be expensive, and it makes it hard to get into camping.
Best Camping Supplies You Can Buy At The Dollar Store
Thankfully, you don't always need to rely on expensive supplies to get what you need. Your local dollar store has tons of excellent camping supplies to make your next outdoor trip one you'll never forget.
We put together a handy (and extensive) list of gems you can find at your local dollar store that takes the financial bite out of the cost of that family trip to commune with nature. I have found ALL items at my local Dollar Tree store – obviously, some vary with the season, but make a few trips to DIFFERENT stores as they all tend to get different inventory.
Keep in mind that the Dollar Tree takes coupons too! That will drop the price of some of these items dramatically if they are name-brand. See their coupon policy HERE.
Aluminum Foil and/or Aluminum Pans
One of the best parts of camping is cooking over that open fire! Sadly, most campground fire pits, if they HAVE a grate, it isn't easy for roasting those hot dogs and who knows when it was cleaned last? My hubby says "it all burns off before you pop on the food" but eww — no!
This is where that aluminum foil is your hero: just put some of it over that grate an you are ready to mock-grill. My favorite use for foil? Foil camping meals! Yum!
The pans are perfect if you don't have that dutch oven or cast-iron skillet yet – and great for everything from food on a stick to batches of campfire beans! Breakfast casseroles, over the fire egg bakes, even as a mock dutch oven – they are worth their weight in dollar store gold.
Antiseptic Wipes
Community picnic table? Not sure who touched that electric panel last? Not sure about that door handle on the pit toilets? These wipes come in handy for any surface that you want to disinfect before you start handling it. Very COVID-19 smart!
Baby Wipes
Sometimes you find yourself unable to get a regular camp shower. Baby wipes to the rescue for that "fresher" feeling. If they are safe enough for a baby's privates, they should be dainty enough to the most sensitive skin, yet able to handle a tough job.
Bath Gloves
While these character mitts are beyond adorable, they come in handy for that communal camp shower- easier than a washcloth as they are designed to drip-dry. Perfect to keep in your bathroom kit!
Batteries
You really can't go wrong with batteries for a buck. I keep a small box with AA, AAA, C, and D batteries on hand. That covers pretty much everything from that handheld electronic game to the telescoping flashlight/lantern. These should be at the top of your list of Dollar Tree camping supplies.
Battery-Operated Tea Lites
No fire hazard here- but you have the fire-like glow at night. These usually come in a 2-pack and are something we make sure all little people have handy. It gives them a sense of comfort to have a little light by their head – or readily available for the dark. The illusion of control is VERY important for them.
BBQ Skewers
S'mores and any other food on a stick! Weenies, veggies, you name it – the set of skewers can be reused and do not catch fire as the wooden skewers do. People always seem to forget that they are supposed to soak the wooden ones for at least an hour in the water…
Beach Toys
These are a must if you have kids! We use a mesh bag (see below under M) to keep them in as it is easier to shake the sand out of them before they go back into your gear.
For a buck, you can usually get a 5-7 piece set that has a bucket, shovel, fork, sifter, and few shapes – a pretty incredible deal that will keep littles entertained for hours.
Birthday Candles
Even if you don't have a birthday to celebrate – these little gems are powerful camping tools! Rubbing it on a zipper will "lubricate" it and turn it into a little person friendly operation. They are flammable and help get that campfire started!
Bleach
It may not be Chlorox, but it works for disinfecting and sterilizing in your dish-washing station.
Books and/or Coloring Books and Markers
I have found the most amazing books at my Dollar Tree – for a buck! I would rather drop that in the lake than my Kindle. I try to take one book for every 4 days we are camping – for those mornings that I beat everyone awake and have a sunrise coffee moment.
As for the littles? I always had a busy box of sorts, filled with activities that were do-able for rainy days or when we had to wait for some strange thing – like to get our boat in the water. My Etsy store has a lot of printable worksheet sets for kids but your local dollar store also has coloring books and activity books! Don't forget the colored pencils or markers (sorry but their crayons suck – get extras of those at back to school time for about a quarter).
Bottled Water
There was that one trip that something happened and our water wasn't potable through our camper. Bottled water saved the day for everything from drinking to whipping up that pancake mix! ALWAYS have some on hand.
Bubbles and Butterfly Nets
These are fun things for the littles – bubbles are great to blow for them to try and catch or let them blow to their heart's content. We usually follow the "no trace left behind" concept when camping and the nets are counter to that – although I don't recall our kid EVER catching a butterfly – even when we were helping the DNR on a monarch hunt.
Cake Taker
Honestly? These and the cupcake carriers suck for baked goods when looking at Dollar Tree camping supplies. They are too flimsy to support them but they ARE good for your paper items like plates, napkins, etc – and can keep your disposables dry as well as help keep them from blowing away.
Can Opener
It is a lot easier to open canned goods as not all have the pull tabs on top. Make sure you get the one that can open beer bottles too. Just sayin'…
Canned Goods
Some of the Dollar Tree canned foods are cheaper than what you get at the grocery store! Around Thanksgiving? Canned yams and pumpkin pie filling – for a buck! $1.79+ at the grocery stores.
You need to know your prices here – but even some of their canned veggies are 2 for a dollar. I know you might not think of canned goods are Dollar Tree camping supplies, but many do.
Carabiner Clips
If you hike or are a backpacker – these babies come in SUPER handy for so many things. Multipacks are in the hardware section and can be used to hold all of your mesh bags in a tree, keep your garbage out of critter reach, anchor your dog to your campsite, etc. You get the idea!
Clothespins
If you put anything on a clothesline, these help KEEP them there – from towels to swimsuits.
Colored Chalk
Entertaining the kiddos? They can decorate your campsite, you can make a hopscotch set, you can take one with you hiking to mark your trail if you are in an area without marked trails.
Condiment Bottles
Soooo much more than just ketchup and mustard! We love these for making pancakes – you can easily control the batter going onto the griddle.
Dawn Dish Soap
So eco-friendly that it is used on wildlife when cleaning up after an oil spill. Even if you use paper plates and plastic utensils, chances are you will need to re-use pots and pans if you are doing a lot of cooking.
Dawn is an excellent de-greaser, should you get something on your clothes and need to pre-treat until you get home!
Dish Drainer
Y'all don't need this if you follow our dish washing instructions but isn't it nice to know that you can get one for just a buck?
Dish brush/soap wands
If you don't want to bring an entire bottle of dish soap with you, the dollar store has these handy dish brush wands that let you fill their handles up with dish soap. It can't get much easier to wash a dish than that!
Dishpan
These come in white and black – it is always a surprise as to what you will actually find. You need THREE for our dish washing station set up suggestion.
Dog Leash
Extra-long and nice and thick. These are great to have on hand, just in case there is a "leash law" at your campsite.
Dog Poo Bags
4 bundles for a buck – that is the best price I have seen anywhere and let's face it: poo pick up is just polite. Do it.
Doormat
I HATE it when sand and dirt is tracked into our camper. Wipe off those feet before you come in or leave the shoes outside!
Dry Erase Board
Some campsites are so busy that everyone does their own thing. Who is at the pool? Who grabbed the Kayak? Who went to the camp store for donuts? Who took the pooch for a walk? For a buck, you can have a camp message center to make sure all people are accounted for and easily locatable in the event of an emergency.
Duct Tape
There are easily over 100 ways to use duct tape. (I found a list HERE)
Fix rips and tears, fix that air mattress, fix the pool floaties, fix the kite, even use it in your first aid kit for blisters!
Dustpan and Broom
We have a pop-up and it seems that there is ALWAYS sand or dirt finding their way inside. Occasionally we have potato chips fall under the table, etc. These two tools help keep things tidy – get a dust broom if that works better than a full-sized broom!
Ear Buds
Always have backup headphones unless you want to hear your teen's favorite music over and over and over and over…
Earplugs
4 pairs AND a container to hold them. Worth it. My husband snores … but you might have those campsite neighbors that stay up until 3 AM.
File Organizers
These flimsy organizers are perfect for holding all the important papers that go with your camper, like specs and insurance. They are slim enough to fit between your seat and center console so you always know where it is.
First Aid Supplies
First aid supplies are absolutely essential to have an abundance of on hand for any camping trip. Fortunately, putting together a first-aid kit can be incredibly cheap, especially at the dollar store. Hands down, it is one of the Best Dollar Tree camping supplies to stock up on!
Purchase a durable plastic container, and then begin filling it up with all of the supplies you may need. Bandages, disinfectant wipes, rubbing alcohol, antibiotic ointments are all great additions to your emergency medical kit.
You can also get smaller portions of many medications such as Ibuprofen, sinus, and allergy relief medications, and stomach relief medications such as Pepto-Bismol. These are perfect because they don't take up a lot of space in your kit.
They even have a handy travel pack that includes cotton pads, cotton swabs, and cotton balls which are always a good idea to have in any first aid kit.
As a helpful tip for your medical kit, make sure you open it up and ensure that you have everything you need before you go on a trip. Additionally, make sure that the contents of your first-aid kit aren't expired before your next trip.
Flip Flops
OK, these suck for comfort but work well for shower shoes. You NEVER want to be barefoot in a communal shower – that was drilled into my head when I went through basic training 400 years ago.
Flashlights
It does get dark and if you have to visit the camp potty in the middle of the night? These come in handy!
Flossers
These are easy to help keep your teeth tidy and avoid the string-like garbage. Your dentist will praise you and that minty taste will be refreshing.
Fly Swatters
I don't really think these work well but it can give the kids something to do, lol.
Glow Sticks
Glow sticks are incredibly useful supplies to have while camping and are incredibly cheap at the dollar store. Glow sticks have all sorts of useful purposes, aside from being handy when you need a mobile light source.
Put glow sticks on the stakes of your tent so you don't trip over them at night. Additionally, you can use them to mark whose tent is whose so there isn't any confusion when camping with other people.
You can also use glow sticks as jewelry, which in addition to being fun, also has practical safety benefits. If your kids are running around at night, use glow sticks to keep track of them in the dark.
Glow sticks are also great for camping activities such as games as they can distinguish teams during objective-based games. You can also turn them into rings for games such as frisbee or even horseshoe style games.
Hair ties
If you have anyone with longer hair – you should have extras of these handy. A multi-pack for a buck means when that ONE that was packed is lost or broken then you can easily manage those long locks.
Hand Soap and/or Hand Sanitizer
Depending on where you camp the bathrooms might not be stocked or well-stocked. Having your own on hand can keep ya'll happy and healthy! Hand sanitizer is great for those hikers, backpackers, etc who might not have a lot of spare water.
Hangers
Sometimes you need to just hang something up and that clothesline won't do. Hangers help to dry all those wet clothes from a surprise rain to a hearty kayaking venture.
Hamper
I am talking about the mesh pop-up style here and these are great for any dirty clothes! They help keep the stink down as well as the humidity. Folding flat for storage between trips, these are priceless. This is one of those Dollar Tree camping supplies that can be hard to find.
Icepack
Maybe you need these to keep food in the cooler to stay frosty and maybe you want these on hand for first aid – for any sprains or strains. Bottom line? They are reusable, and only a buck.
Inflatable Arm Bands for swimming
They don't really help keep you afloat as a viable flotation device but give a sense of security to the littles. Get a few extra packs as they are a spring seasonal and vanish quickly.
Jar openers- grippers
If you bring any food items from a jar – this might come in handy. I can food and we often bring some of my homemade treats along. Once in a while, a band is a little rusty and sticks. These make it a breeze to open.
Kites
Again, a seasonal spring item, this can be a fun item to have for camping. They take up very little space until you assemble them.
Knee Pad
This would be my husband's all-time favorite of the Dollar Tree camping supplies. When you have a pop-up camper this comes in handy when setting the stabilizers and the crank. Especially if you are setting up on gravel – it really saves your knees!
Lighter
It's much easier and safer to start a bonfire with a long-stem lighter than a match. Lighters are also your friend for any camp stove and a great find for Dollar Tree camping supplies.
Matches
These are a great backup to that lighter – which can run out of fuel. Make sure they stay nice and dry in either a zippy bag or airtight container.
Mesh Laundry Bag
SOOOO many uses for this baby. We already mention beach toys. How about as a "dunk bag" for your dishes to let them air dry? Don't have a pop up hamper? These work for clothes too. Maybe you need something to haul all of your stuff to the communal laundry? These are fantastic!
Munchies – potato chips, cookies, etc
Pringles $1.79 at the grocery store or a buck at Dollar Tree? Everything from scooter pies to nacho chips- they have you covered for at least half the price of the grocery store. Some are name brand and some aren't – test things before you invest in a large inventory.
Napkin Holders
OK – these are good for keeping tech vertical if it is charging, holding napkins, or even keeping things like BBQ skewers organized in a drawer or tote.
Organizing Supplies – wire racks, baskets, bins, and more
Dollar Tree camping supplies? Seriously, they have 2 different aisles of stuff to help you corral any loose item you could possibly have. From bins to covered boxes – they have your solution.
Paper or Plastic Cups, Plates, and Bowls
It can be a hassle to wash dishes at some locations. Dollar Tree sells all colors of paper and plastic products in their party section or you can hit their paper goods section and buy in larger quantities.
They also have fun plastic cups! Do you want to drink out of a unicorn or have that whimsical plastic wine glass? There are even disposable champagne glasses – it depends on how much you want to party!
One campsite we go to has themed weeks and one time we might pick up grass skirts with coconut cups… or sombreros with plastic margarita glasses.
Paper Lunch Bags
We have talked about cooking breakfast in a bag before – but these come in handy for those beach shells, souvenirs, or even sack lunches for beach day or hiking. Toss them in the fire pit to help as kindling fodder when you are done with them.
Pill boxes
You can use these in your first aid kits if you have larger bottles of meds at home and want to make a mini kit -or if you want to make a "spice bar" for cooking! Get the 7-day pack and you have 7 openings to fill for a nice variety.
Plastic Baskets
Everything seems neater and tidier when grouped together in a basket. Color-code them by personand everyone knows where THEIR dtuff is.
Plastic Caddy
We have these color-coded for the bathroom items. It is easy to take to the camp shower with you if you have your soap, shampoo, bath mitt, flip-flops all together and ready to go. Everything has its place and is portable.
Plastic Cutlery
The dollar store has great heavy-duty plastic cutlery that can be used more than once. This is handy to have on hand when you can't wash dishes, don't want to wash dishes, or plan to wash dishes and reuse them.
Plastic Food Containers
Keeping your food safe and away from bugs and animals can be a real pain while camping. However, your local dollar store just might have everything you need in terms of food storage for your next campout.
We have talked about meal prep before and even packing your cooler – these gems can help if you choose to pre-cut, pre-slice, and pre-dice things before you go.
There are containers in pretty much any size – so you are literally covered in any event.
Plastic Storage Bags
We kayak and like to keep things dry, like our phones. They are great for keeping sand out of things too! When our peanut was smaller, I used these to pack entire outfits for each day – taking the guesswork out of how to dress for the day.
Poly Rope
Need a clothesline to dry wet swimsuits and towels? Need to tie down the kayak because support is shifting on your roof rack? Need to anchor a tarp or tent with high winds or a lot of rain? Need to bear-proof your food?
This rope is worth having on hand for so many uses – it is like duct tape! Granted it isn't paracord, but it works in a pinch.
Polyester Pot & Pan Protectors, 3-ct. Packs
Somethings that you might keep in your camping kit shift during transport. If you take real pots and pans, they can kill each other fast if they are nested inside each other without these.
Pool Noodles
Versatile little suckers here for Dollar Tree camping supplies- first of all, cut into smaller sections and then slit down one side. You now have a knife protector. Stick your knife blade inside the pool noodle and it won't hack other things up while in transport.
You can use them on the edge of a bucket to make a camp potty.
Slice them along one side and use them to cover tent lines to make them visible. It helps prevent tripping!
Potholder
Ever grabbed a hot pan off of the campfire? You need one of these! Don't bring your good ones from home – grab a pair for a buck and keep it in your camping kit.
Powdered Milk
Best. Price. Ever. And great to have on hand if you can't store fresh milk. Add some of that bottled water and you are ready for everything from coffee to making mac n cheese.
Q-tips
You never realize how many times you need to clean a little something, fix something small, or add a little medication until you don't pack these.
Rain Poncho
These take up a lot less space than full-sized raincoats and come in handy in the event of foul weather.
Rainy Day Games and Toys
Stuck in the camper or tent? That is where the "busy box" I mentioned comes in. Make these something different than what the kids normally have access to so it seems like a fresh task. Don't forget to add our trash panda craft kit!
Room Spray
The average person farts over 25 times a day – multiply that by how many people are camping with you. Enough said.
Seasonings and Spices
My favorite Dollar Tree camping supplies bargains! Everything from cinnamon to the dehydrated minced onion. For a buck. Fill those mini pill containers and keep your camp kitchen well stocked.
Shower Caddy
These work for your camp shower or RV – but aren't that handy to haul to the communal showers. Keep all those washing essentials together.
Shower Caps
Want to cover a plate of food to keep the bugs out? Want something to wrap those muddy shoes in to keep dirt from tracking all over your camper? Shower caps to the rescue!
Slim Jims
If you hike, these are great protein grabs and lightweight – great for that backpack!
Solar Stake Lights
Great to have around your tent stake lines or to light up the way to the potty. Make night time easier when you really aren't all that awake.
Spray Bottles
If you looked at our how to wash dishes article – these make for great low water wash systems.
Sticky Rollers
Two words – tick checks! Roll them on your clothes, or even Fido to see if any creepy crawly stick to it! As far as Dollar Tree Camping Supplies – this one might be at the top of the list if you are leery about Lyme's disease.
Streamers
If you can't find pool noodles for marking your tent/tarp/yurt stakes then this may be your next best option. A roll goes a long way!
Sun Glasses
Protect those peepers – both yours and those of your child. It can prevent so many things down the line.
Sunscreen
You don't think about skin cancer until you get it. And who wants to spend most of their vacation dealing with a sunburn?
Super Glue
Did you know that this was invented to close battlefield wounds on soldiers? Keep it in your first aid kit for quick liquid sutures.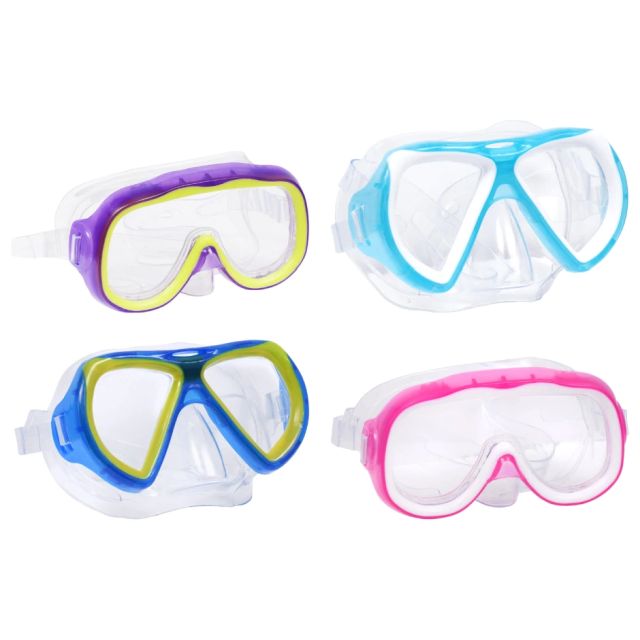 Swim Goggles
Chlorine in a campground pool can irritate the eyes and the stuff that may be in the lake? eesh – . Protect the peepers!
Tablecloth and Clamps
While most developed campgrounds have a picnic table on each site, they usually aren't the cleanest or smoothest tables you've ever eaten from
Tablecloth clamps will keep your tablecloth from flapping around or being blown away altogether in the wind.
Tarp
Most people think of extra rain protection, covering firewood, or using on the beach as a mat. We found 15 ways to use a tarp when camping – see it HERE.
Tissues, Paper Towels, and Toilet Paper
As I mentioned, campground bathrooms aren't always stocked, so it's always a good idea to bring some back up toilet paper just in case.
Dollar Tree TP is one-ply, making it great for camp pottys.
Paper towels are handier than napkins and can help as a firestarter for that fire pit.
Tools
If you leave a dollar hammer behind, you aren't as upset as if it was your Craftsman hammer. Pliers, wrenches, hammers, and screwdriver – the Dollar Tree has them all.
Trash Bags
First of all, they have pretty colors and even scented bags for your garbage. You want to keep it in a bag and be able to lift it into a tree to keep critters out of it.
If you are in a state park, you may have to haul out what you bring in – so keep it bagged up until you are ready to dump it.
Didn't get those rain ponchos? These will work in a pinch. They also help keep you a little warmer when the temperature dips – keeping your body heat in closer.
If you have a severe wet streak – use them to bag up everything for the trip home – to keep your car cleaner.
Travel Toiletry Bottles
These are super convenient for packing shower gel, shampoo, conditioner, etc., but they can also be used for kitchen items like olive oil, ketchup, and other condiments.
They fit well into that plastic shower caddy and let you repackage your bigger items at home for a thrifty take on little consumables. It is almost two bucks for each individual mini item at Target!
Umbrellas
Rain happens. Occasionally strong winds do too – and the umbrellas can blow out. A buck umbrella is easier to lose than a thirty dollar stadium-sized one.
Utensils for cooking
Would you prefer a mini size or full-sized? There are small sets or you can get quality ones for a buck each. I LOVE my handy dandy hamburger chopper! Pampered Chef sells it for $15 !!
Whisks, bamboo spoons, slotted spoons, tongs, and so much more to choose from!
Vinyl Gloves
Sometimes there are tasks you don't really want to do but they have to get done – like dumping septic or greywater. Heck, I even wear these when washing dishes!
Water Guns
On a hot summer day, a water gun fight can be awesome. May I suggest getting a few super soakers and ganging up on Dad – but not letting him have anything bigger than a pea-shooter?
Waterbottles
It is good to have a custom colored water bottle for everyone to reuse. It is more eco-friendly than 16 ounce water bottles and a great reminder to hydrate!
Whistle
Do you need to call kids back to camp for a meal or maybe pack one for emergencies when your voice is going out? Cheaper by far than over a camping supply store! Test it out to make sure it works!
X – I got Nothing.
Y – I got Nothing.
Ziploc Style Bags
So many uses – from marinating meat for your skewer meal to hauling that homemade trail mix on your hike. Need to keep that phone or camera dry in the kayak? Bam! Covered! Use smaller ones to keep matches dry, hold items in your first aid kit, or even corral markers and colored pencils for the busy box.
Camping does not have to be nearly as expensive as it is made out to be. There is a lot of supplies you can get at the dollar store, and plenty of items that can be used for camping. With these tips under your belt, your entire family can have the ultimate thrifty camping adventure for pennies on the dollar.
Other posts you may find helpful: