Food
Awesome Meal Ideas For Camping
We may earn money or products from the companies mentioned in this post.
Camping can be a fun experience for the whole family. However, it's important to plan ahead and have some great camping meals at the ready! Camping recipes don't always have to be complicated or time-consuming. They just need to provide plenty of energy, nourishment, and flavor!
Camping is one of America's favorite pastimes, and roughing it out in nature can be an absolute blast! Sometimes it's easy to forget that you still need to eat while camping though, so it's best to plan meals before you head out to your favorite spot! When you're considering camping meal ideas, make sure it's feasible while you're out camping.
Awesome Meal Ideas For Camping
In this blog post, we're going to share our favorite camping meal ideas with you so that you can have an awesome campfire cooking session in no time at all. Let's get started!
First of all, we ALWAYS like to take a few packs of freeze-dried meals with us. Let's just say that sometimes, things are out of your control. It might be warmed than you planned and that cooler isn't as cold as you are comfortable with so any meat on day two or three looks a little "iffy".
Freeze-dried meals are great because they last a LONG time, so you can take it camping with you and actually be able to eat later. We are talking 10-25 years kind of a long time, and are perfectly shelf-stable.
We like the 4Patriots brand of freeze-dried meals because they are high quality and a little more higher-end than some other brands.
AND – they are always running a special!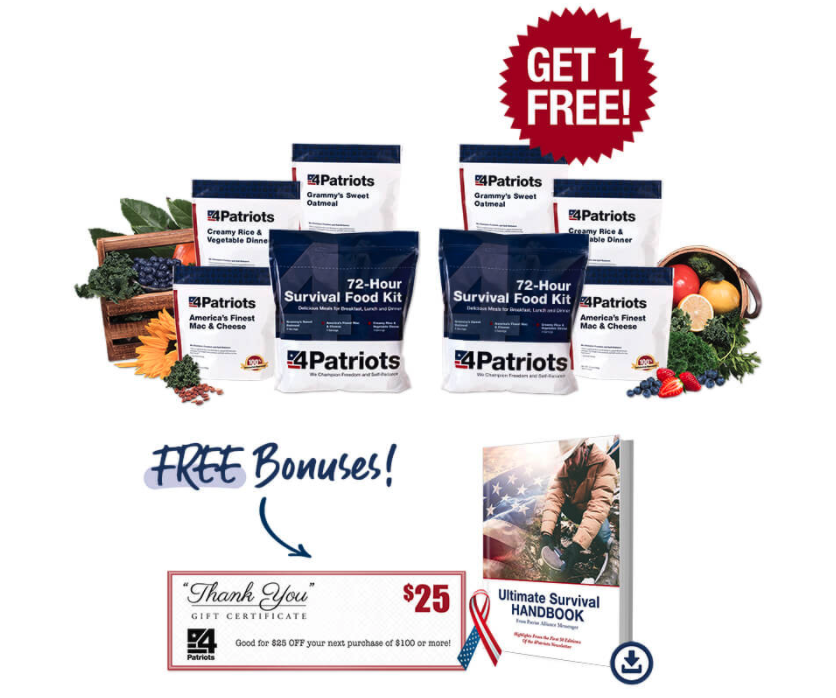 Camping Breakfast Ideas
Fried eggs and bacon with toast, or breakfast burritos
Campfire Breakfast: Scrambled eggs cooked in the bottom of a camping pot, with bacon on top. There are many variations to this recipe and it is an excellent start to any day at camp!
Omelet Wraps: These omelets can be made ahead of time, wrapped up tightly in foil or parchment paper, and placed on the coals of a campfire with any desired fillings.
Baked Eggs in a can: Simply cut an empty soup or tuna fish can into sections so that it fits snugly over your camping stove's burner. Pour beaten eggs inside and bake until cooked through.
Oatmeal: A healthy, filling breakfast that is easy to make in camping conditions! Mix the oats together with milk or water as well as raisins, nuts, and cinnamon. Add brown sugar if you want something sweet!
Camping Lunch Ideas
Tuna salad on crackers with veggies
Cheeseburgers wrapped in foil, cooked over the open fire for a few minutes to heat up. Toppings: lettuce, tomato, onion slices, cheese slices (optional), mustard or mayonnaise packets
Peanut butter sandwiches on bread, crackers, or tortillas.
Ham and cheese wrap with a side of chips
Chips and dip
Hummus, carrots, celery sticks with ranch dressing to dip them in. Use any type of hummus or add your favorite veggies like cucumbers for more crunch!
On the Grill
Grilling is a great way to cook while you're camping, and it's pretty easy to think of meal ideas for grilling.
Kid Stuff:
Grilled Hot Dogs
You can make your own hot dogs and grill them, or buy pre-made ones. Cut into slices lengthwise for easier grilling
Burgers
Meat:
Chicken: this is very simple, just throw a couple of seasonings or some barbecue sauce on it, grill it up and you're set! The nice thing about chicken is you can use it for multiple meals and use it in tons of different ways.
Steak: The easiest way to do this while camping is to grab a pre-made marinade in a bag. Let the steaks marinate, grill, then enjoy!
Kabobs: Making kabobs before you go is a great meal idea and something that can be grilled easily. Try and pre-make them before you go just in case you're limited on space for slicing veggies!
Vegetables:
Corn: Grilled corn is really simple and most of the time doesn't need seasoning!
Asparagus: Asparagus covered in a little olive oil and salt and put on the grill is a simple meal idea that is super satisfying!
Zucchini: Zucchini is a huge hit and tastes delicious when it's grilled! A perfect vegetable to round off any meal idea.
Onions and Mushrooms: Onion and mushrooms are a great one-pan idea that can be cooked on the grill.
Snacks:
As with any trip, snacks are super important and you want to make sure you have good ideas, as well as some that are healthy. You won't feel good if you load up on junk food and you want to feel good on your trip!
Watermelon

: Easy to cut and store!

Apples

: No preparation necessary, just eat and enjoy.
T

rail mix

: Whether you make your own or buy it pre-packaged, trail mix is a great source of protein and energy and will keep you feeling full!
Granola bars: A quick snack that you can take on all of your camping activities.
So now that you have a meal idea for just about any taste preference, you should be able to plan your eating accordingly for a camping trip! The key is making sure that there is something for everyone, and enough to last throughout your trip.
You don't want to eat the same thing over and over so pack a variety, and pack foods that are healthy so you can feel good and nourished while you're camping. Let me know what kind of food you like to eat while camping in the comments below!
Other posts you make like: