Food
How to Make the Best S'mores Cereal Bars
We may earn money or products from the companies mentioned in this post.
There is nothing like setting around that campfire, making S'mores with family and friends. You have those Honey Maid Graham Crackers, lightly toasted marshmallows that are creating that melted chocolate that has you licking your fingers as you eat your treat. But what if I told you there is an even better way to enjoy this classic treat? Introducing S'mores Cereal Bars! This recipe takes all of the best parts of S'mores and combines them into one delicious, portable non-baked dessert.
S'mores Cereal Bars are a delicious and easy way to enjoy the classic S'mores flavor. This recipe only takes a few minutes to put together, and it is perfect for a quick snack or dessert. We will show you how to make these tasty bars, and we guarantee that you will love them! They are a friendly twist on common crispy treats.
If you want a quick snack idea, S'mores cereal treats are a fun treat that's both sweet and chewy. The thought of roasting marshmallows over the fire is a summertime classic. Gooey marshmallows smashed with melting chocolate in between two graham crackers is something we all want some more of… hence S'mores should be the official summer dessert.
Best Recipe To Make S'mores Cereal Bars
Make your own Smore's Cereal Bars at home! These delicious no-bake treats can be made in just 10 minutes and eaten by all ages. Whether you're hosting a summer party or a winter snowstorm, you can enjoy these no-bake treats you can even have your kids make with you! You can make them any time of the year, with a few staple ingredients in your pantry.
Why You Are Going To Love This:
S'mores Cereal Bars are little bite-size treats that invoke all the same flavors without needing a campfire! Forget having sticky hands and chasing kids around outside as you worry about their tiny hands getting burned from the flames or that they will poke an eye out from the skewers. Less mess = less stress, right? That's the best part of this treat! All in one pan, no baking required. Add in the fact that we don't use corn syrup in this recipe, and you have a great way to take care of that sweet tooth
What Do I Need To Make S'mores Cereal Bars?
With only four ingredients, you can have this treat in no time at all!
Golden Graham cereal – yes, you can get the generic version of graham cracker cereal if you wish
Marshmallows (large and mini) – I always tend to go for the Jet-Puffed brand
Chocolate Chips – stick with milk chocolate chips here, not semi-sweet
Unsalted Butter – use real butter, not margarine.
How to Make S'mores Cereal Bars
Spray a large bowl with nonstick spray, and set aside.
In a large saucepan on low to medium heat, melt 4 Tablespoons of butter.
When the butter is melted, add in the 10oz bag of large marshmallows and stir very often until they are melted with the butter and you have a gooey marshmallow mix.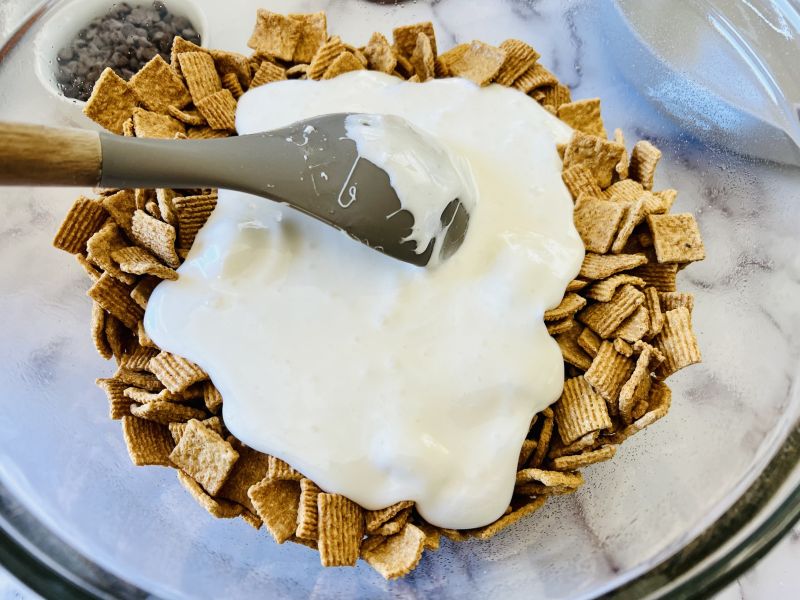 Pour the 6 cups of cereal into the prepared mixing bowl, then pour the melted marshmallow mixture over the top of it. Toss to coat the cereal with the marshmallow mix fully.
Stir in 1 cup of chocolate chips.
Spoon your coated cereal mixture into that prepared baking dish or baking pan. Wet your fingers with cold water so you can press down to create an even layer without it sticking to your hands.
Sprinkle on 1/4 cup of miniature marshmallows and 1/4 cup of mini chocolate chips over the cereal bars. Press them into the bar mixture.
Allow your pan of S'mores bars to cool at room temperature for at least one hour.
Cut, serve, and enjoy!
Can't Eat Them All?
If you have leftovers, you can store them in an airtight container for up to a week. They make great school snacks and are a free change-up from Rice Krispie treats.
You can also freeze S'mores cereal bars for up to two months. Wrap each bar individually in plastic wrap, then place them in a freezer-safe bag or container. When you are ready to enjoy, let the bars thaw at room temperature for about an hour.
S'mores Cereal Bars FAQ
Can I Make This Gluten Free?
Unfortunately, Golden Grahams cereal is not gluten-free. However, there are gluten-free graham crackers on the market that you can substitute if you need to. Pamela's Graham crackers are the most popular choice as they are available on Amazon and in most grocery stores across the United States.
Can I Make This in the Microwave?
It's not necessarily a time saver to use the microwave but if it's a necessity, it can be done if you move slowly. Use microwave-safe bowls and melt large marshmallows, and butter in 30-second increments, stirring in between until everything is well combined before folding in the cereal and pressing it into the serving dish to set.
What is the Best Way To Cut Sticky Treats?
Allow your treats to cool off before you try to slice them fully, so everything has a chance to firm up. A life hack for those in the know is to use a sharp knife and nonstick cooking spray to help the knife glide through the treats.
What Can I Add To This Recipe?
If you want to make different variations of these little treats, you can add other ingredients to change the flavors!
Peanut Butter – While melting the butter and marshmallows together, add ½ cup of creamy peanut butter spread. Be sure to use the spread instead natural or homemade peanut butter for the best consistency.
Crushed Candy – Choose your fancy, there are so many candy options! Mini M&Ms, Kit Kats, Reeses, Crushed Heath Bars… experiment to find your favorite combination.
Crumbled Cookies – Oreos are the easiest to crush up and add to dessert recipes and thanks to all the creative flavors, you can try things like java chip Oreos or mint Oreos to suit every flavor craving.
Serving Suggestions
It would also be fun to make this a part of a themed "Campfire" dinner night for the family! Break out your cast iron skillet and make pigs in a blanket or spicy steak and peppers as the entree with these s'mores cereal bars as dessert.
No matter when or where you choose, this is one recipe you will want to have handy all summer long. Print it out, pin it to your Pinterest, whatever you need to do to hold on to it! The whole family is going to love it.
Other recipes you may like: