Food
The Best S'mores Bars Recipe You Have Ever Tried
We may earn money or products from the companies mentioned in this post.
Sometimes, when you plan a camping trip, you know there won't be much time to cook over that roaring fire. My last trip was a great example – we were at Peninsula State Park in Door County, but we were doing research for my next book and ate out almost every meal.
This S'mores Bars Recipe was my saving grace as a camping trip should involve S'mores! You can make these in advance and take camping or to any friendly get-together.
All s'mores bars recipe ingredients can be "generic" from Aldis if you want to make it beyond budget-friendly. I haven't seen it make a large difference in the final results, and it can take $3-5 off the total cost of the ingredients.
Sometimes, that $3-5 can make a difference in the budget, and when you do it often enough, you can rake up enough savings to have cash for additional equipment you want or a fun time out.
Another good reason to make The Best S'mores Bars Recipe You Have Ever Tried? Occasionally you are camping when it is ungodly hot out. Your poor Hershey bars would be a puddle of chocolate goo before you even added the toasty marshmallow! No messy hands with these delightful gems.
How did s'mores even become a thing? S'mores appeared in a cookbook in the early 1920s, where it was called a "Graham Cracker Sandwich". The text indicates that the treat was already popular with both Boy Scouts and Girl Scouts. In 1927, a recipe for "Some More" was published in Tramping and Trailing with the Girl Scouts.
Marshmallows date back to ancient Egypt (where they were made from the actual marshmallow plant). Chocolate is of Mesoamerican origin. Leave it to the Americans to pop both of those onto graham crackers and involve the communion of friends around a campfire.
The Best S'mores Bars Recipe You Have Ever Tried
You will need:
7 cups Golden Grahams
4 ¼ cups mini marshmallows
1 bag chocolate chips (11 ½ oz)
½ cup light corn syrup
1 teaspoon vanilla
2 tablespoons butter
1 tablespoon butter (For greasing the pan)
Directions:
Grease your 9 x 13 baking dish with a Tablespoon of butter.
In a large mixing bowl, measure 7 cups of Golden Grahams into it, and add 1 cup of mini marshmallows to it.
Take ¼ cup of chocolate chips and ¼ cup of mini marshmallows and place in a small bowl on the side.
Dump the remaining chocolate chips and mini marshmallows into a medium-size non-stick pot along with the corn syrup, vanilla, and butter. Put the pot on a burner at medium-low heat. Constantly stir the mixture with a rubber spatula until all of the marshmallows have melted and it turns into one cohesive mixture. This should take about 4-5 minutes.
Then quickly pour the mixture over the large bowl that has Golden Grahams and marshmallows in it. Mix them together until thoroughly combined.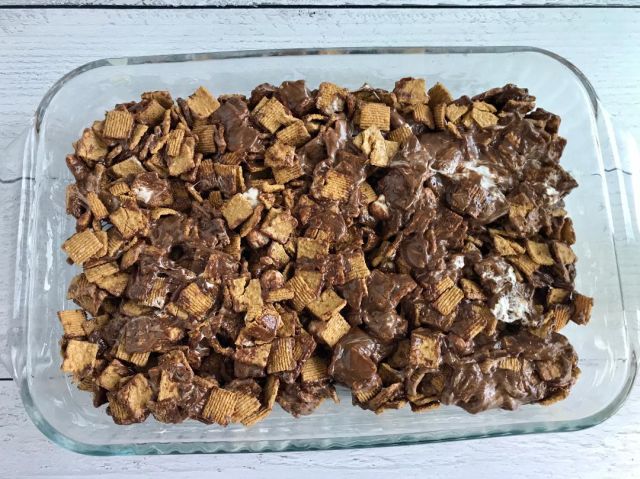 Get your fingers wet with cold water and then use your fingers to press the mixture into the greased pan.
Top with the reserved chocolate chips and mini marshmallows. Put the pan in the refrigerator for about 30 minutes to set. After 30 minutes cut into bars and serve.
Other great camping recipes you may enjoy: