National Parks
Fun Things to do and Facts About Acadia National Park
We may earn money or products from the companies mentioned in this post.
Nestled in the town of Bar Harbor in the state of Maine, Acadia National Park protects most of Mount Desert Island, Acadia was the first of the National Parks established east of the Mississippi River and is the home of the first American location to see sunlight every morning during the Fall and Winter months. One of the perks of being on the coast of Maine. Lets look at more facts about Acadia National Park.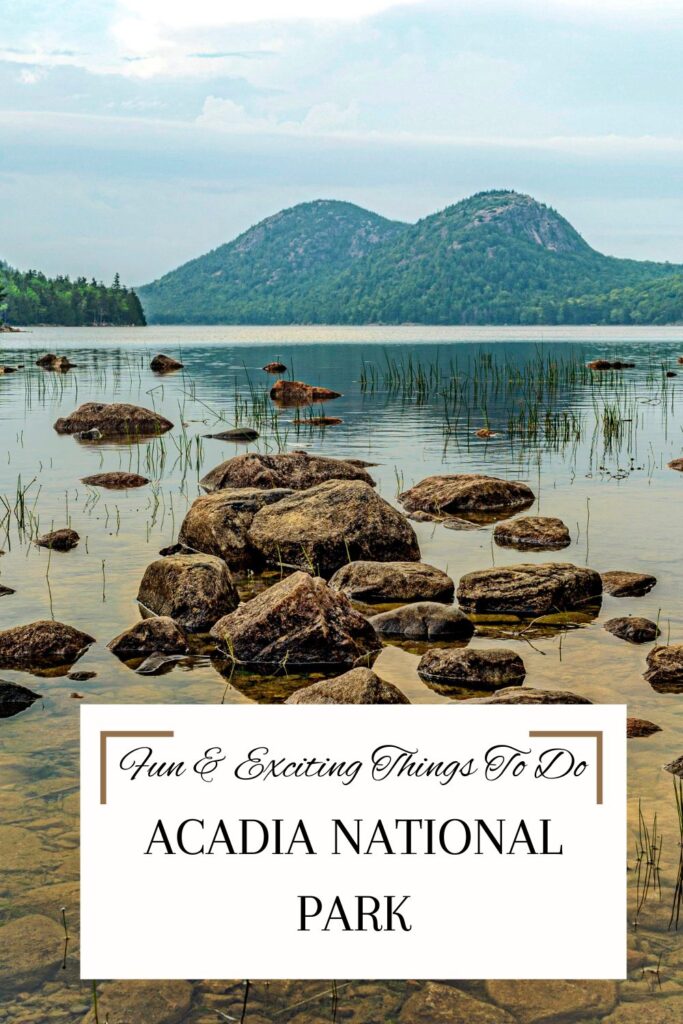 Protecting most of Mount Desert Island, several smaller islands off Maine's Atlantic coast, and the Schoodic Peninsula, the Acadia National Park was originally created on July 8, 1916, as the Sieur de Monts National Monument, later becoming the Lafayette National Park, then renamed January 19, 1929, as the Acadia National Park.
History of Acadia National Park
The first National Park was established east of the Mississippi River and contains approximately thirty-five thousand acres of forests, shorelines, lakes, mountains, woodlands, seacoasts, rocks, and private lands donated to build the park, the area that became Acadia National Park was controlled by the French and English before becoming American property in 1760.
Native Americans known as Wabanaki, or "People of the Dawn," lived in this area of more than 20 mountains that receive the first rays of sun in fall and winter, according to the Maine Public Broadcasting Network.
In 1604, French explorer Samuel de Champlain (1567-1635) ran aground and named the island "Isle des Monts Deserts" or "Island of Barren Mountains." Tremendous efforts of residents and visitors like George B. Dorr helped preserve Acadia from development. George was a bachelor who was known as the father of Acadia National Park. He spent most of his adult life bringing the park into being, caring for the park, and expanding it.
He worked with Rockefeller to improve things and then, in 1919, President Woodrow Wilson signed Acadia as part of the U.S. National Park Service. I just love that President Wilson did so much for our park system!
Operating Season of Acadia National Park
Most activities in Acadia National Park occur during the warm peak season, from April to early October. Although the park is open year-round, the visitor center, most of the public facilities, and most of Loop Road is closed during the winter. Check the park headquarters and Hulls Cove Visitor Center for additional information about the operating hours and seasons.
Acadia National Park Outdoor Activities
There are plenty of outdoor activities available to visitors to Acadia National Park. If you plan a trip to Acadia you can explore the amazing visitor centers, the Islesford Historical Museum, and the Wild Gardens of Acadia.
You can also plan day hikes with picnics, go to the beach, whale watching, sea kayak, or discover Acadia National Park at a more leisurely pace by riding the fare-free Explorer buses. Read the Beaver Log, which is the park newspaper, for information on current activities and guided tours during your visit.
Camping in Acadia National Park
These are simple facts about Acadia National Park – the camping! There are two campgrounds located on Mount Desert Island: Blackwoods Campground and Seawall Campground. Most campsites accommodate tents, but there are also sites for pop-up campers, vehicle campers, and RVs up to 35 feet long.
The campsites are all in a forest setting, and within a 10-minute walk to the beach. There is also a campground designated for people with stock animals – the horseback riders (Wildwoods Stables), and a primitive-style campground (Duck Harbor) located on Isle au Haut.
Mount Desert Island
Surrounded by the sea, sea smoke, and fog on many days Mount Desert Island possesses eight mountains, fir, birch, maple, and pine trees that have remained nearly unchanged for more than four hundred years.
It also contains fifty miles of carriage trails designed by John D. Rockefeller Junior that is popular with runners, walkers, bikers, and carriage riders, seventeen granite bridges, two gate lodges, and coping stones known as "Rockefeller's Teeth".
Isle Au Haut
The Isle Au Haut offers Mount Champlain, its highest elevation point at 540 feet tall, Rocky Mountain, Sawyer Mountain, coniferous forests, granite boulders, rocky beaches, salt marshes, and Long Pond stretching down the island's eastern side.
Baker Island
Displaying the 1855-built Baker Island Lighthouse, a National Register of Historic Places site, and marking the southwestern entrance to Frenchman Bay, Baker Island is located about four miles south of Mount Desert Island.
Frenchman Bay
Bounded on the east by the Schoodic Peninsula, and Mount Desert Island on the west, Frenchman Bay contains many small islands, including Ironbound Island, its largest.
Camping at Wisconsin State Parks: Discover the Unexpected Joys of Camping
Schoodic Peninsula
East of Bar Harbor the Schoodic Peninsula possesses approximately five percent of the Acadia National Park, many volcanic dikes, several hiking trails, Frazier Point, Blueberry Hill, the Mark Island Winter Harbor Light Station, Schoodic Head, its major attraction, and ferry services to Mount Desert Island.
Cadillac Mountain
Cadillac Mountain is the highest elevation point within twenty-five miles of an eastern United States coastline. The summit of Cadillac Mountain is commonly believed to be the first American location struck by sunlight every day during the fall and winter months and it provides scenic views of Nova Scotia more than one hundred miles away.
Somes Sound
With its lowest point about 175 feet deep Somes Sound splits Mount Desert Island in two and is the only fjord, a small drowned glacial embayment, on the East Coast.
The Rocky Coast
Acadia is all about its rocky steep cliffs and shoreline mountains that plunge into the sea, but sometimes the massive stone ledges give way to concave beaches covered with small pebbles rounded smooth by the action of the sea. Two such beaches are Hunter's and Little Hunter's Beaches, which are located off Loop Park Road near Schooner's Head.
These beaches, although impressive to walk along, do not offer any recreational opportunities such as swimming or boating and in fact, can be quite dangerous for anyone who might attempt such a feat.
Acadia's Most Visited Beach
Sand Beach probably gets more visitors than any other beach in the park, although few of the beach visitors make it completely into the water because of the cold temperatures.
Most beachgoers feel content to walk on the sand or wade in the chilly surf and take in the uncompromising view of some of the nearby mountains that hug the shoreline. This popular beach also provides a lifeguard during the busy summer months.
Freshwater Beaches
The most popular freshwater beach in the park is called Echo Lake Beach, and by chance, it just happens to be located on Echo Lake. Echo Lake can be found south of Somesville, a small town that sits on the west side of Somes Sound.
Echo Lake, which is quite popular with local residents, features a wide stretch of sand, beautiful crystal-clear water, and a lifeguard on duty from Memorial Day to Labor Day. Water temperatures at Echo Lake are much higher than what you might find in the Atlantic.
Trails and Carriage Roads
Philanthropist and horseman John D. Rockefeller Jr. donated 11,000 acres of land and built 45 miles of carriage roads. Park visitors on cross-country skis, bikes, or horse-drawn carriages experience broken stone roads that were built for the rainy weather and extend through 17 stone-faced bridges.
Acadia has a one-way, 27-mile road that loops around the eastern half of the park for views of the Atlantic. The miles of historic hiking trails total 125 miles.
Wildlife at Acadia National Park
Acadia National Park houses more than forty species of wildlife including squirrels, white-tailed deer, chipmunks, beavers, moose, muskrats, porcupines, foxes, bobcats, coyotes, and black bears, with fossilized remains of wolves, Gray Seals, sea minks, lynx, and mountain lions that have been recovered in old Native American sites on the island.
Animals of Acadia National Park
According to the U.S. National Park Service, Acadia National Park is home to 338 species of birds. The offshore islands provide nesting habitats for eiders, raptors, and other colonial birds like peregrine falcons and bald eagles. Parklands contain 11 amphibian species that include frogs and salamanders. Fish species include landlocked salmon, lake trout, and brook trout.
Other Attractions
Other attractions found in the Acadia National Park include the Bass Harbor Head Lighthouse, Thunder Hole, Sand Beach, Jordan Pond, Eagle Lake, Sargent Mountain, Penobscot Mountain, the Abbe Museum, Little Cranberry Island, the Islesford Museum, Northeast Harbor, the Sieur de Monts Spring, the Wild Gardens of Acadia, and the Egg Rock Lighthouse.
You can find Acadia National Park at 20 McFarland Hill Drive, Bar Harbor, Maine 04609
Places to Stay Nearby
Like the facts about Acadia National Park? Check out these other articles: