Tips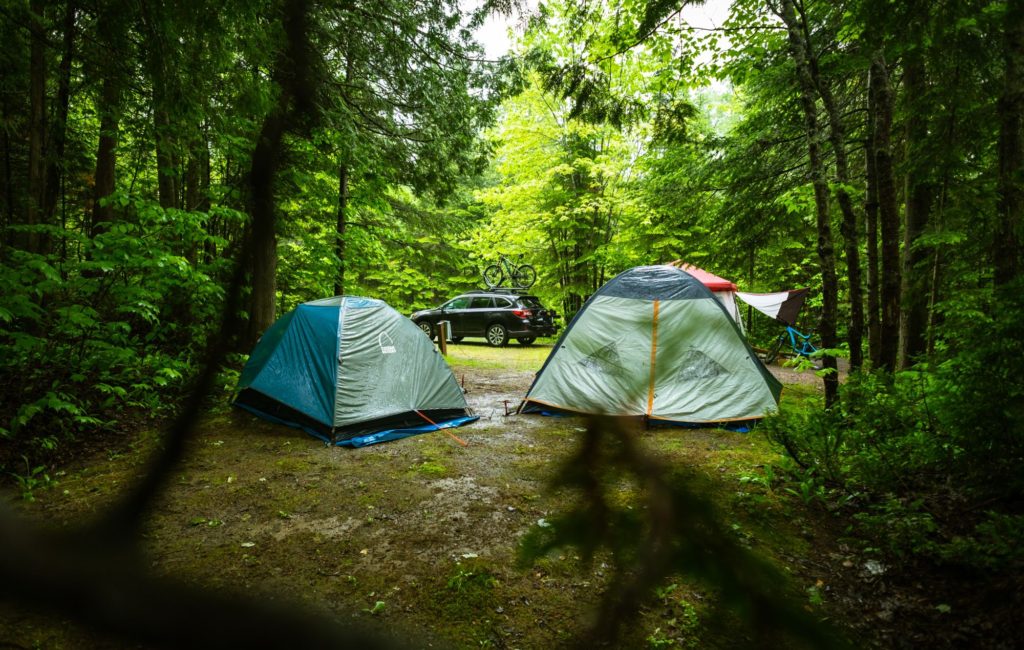 How to Camp When the Ground is Wet
We may earn money or products from the companies mentioned in this post.
Camping is a fun activity, and many people believe it is better when dry. However, as the weather changes to a "gloomier" one, many people tend to pack up their tents and head back home.
Fear not – there is still hope when it gets wet outdoors, and with a few tips, you can have as much fun as when the sun is out. Here's how to make the most of the wet weather and for camping when the ground is wet.
Camping When The Ground Is Wet
The first way to have a successful wet camping experience is to make for the occasion. If there is a forecast for rain or it already fell, you need to pack the right items that will facilitate this weather and keep you dry and warm.
Prepare Yourself
All the things you pack should be susceptible to the type of climate in the region you are going to. Also, installing a useful weather app will keep you abreast of the potential weather changes for the days you will be out.
Know Where You Are Going
Another essential factor to consider when camping during wet weather is to know your environment and where you will set up your base. If the ground is too soft, you may need to rethink or go to another location where setting up your tent would be more comfortable and safer.
Also, you need to know if the ground is water-logged and whether it is safe for your family to experience the best of nature.
Pitch Your Tent High
When the ground is damp, it can be a bit unpleasant and gets muddy over time. To get the best experience from your camp, you need to pitch your tent on higher grounds in case there may be insects that lurk around in the wet ground and would want to crawl in your tent. Also, pitching high reduces the risk of your tents falling as a result of the land being too soft.
Double Check Your Tents Before Leaving Home
Before you venture out, you would want to ensure your tents are in the best shape to handle a wet ground condition. After all, you don't want to wake up in the morning to see mud seeping through tiny holes you didn't see.
It is recommended you hold the base of your tents in a well-lit area, and if holes are spotted, use a durable tent-proof mending tape to patch or seal.
Travel With Plastic Bags (Eco-friendly Types!)
Plastic bags serve a wide variety of purposes, and having them on camp will save you a lot of trouble. During a wet camp, this plastic will help to secure your most valuable items like food, clothing, or any books and paper-based items. They also allow for the storage of clothing that is messed up by the wet and mirky conditions outdoors.
Ensure You Have Handwarmers
Whenever the time gets wet, you can be sure it is going to get cold. During wet weather conditions, the sun is not always available, and as such, the body will need to be kept warm. Handwarmers are perfect for reducing the risks of developing cramps and tenderness from the damp surrounding.
Travel With Some Newspaper
A campfire is a must, mainly to keep warm or for that bond fire but may be hard to light while the wood is cold. The paper can serve as an excellent kindling method.
Also, you can use the newspapers to line the inside of the tent as a way of absorbing the additional coldness that may be coming from the wet ground. Use it as a base for your clothes back, food areas, or even under your sleeping bags.
Portable Gas Stove
Food is essential while camping, and it is not always an easy task to light a fire when the wood is wet. A warm cup of tea or a dish of soup helps to soothe the body and prevent issues like hypothermia from developing.
Bring Lots Of Socks
Being outdoors at camp while the ground is wet will make your feet cramp and cold. Having a few extra pairs of socks will help you to stay warm when you get in your tents.
Take A Bottle Of Freshener With You
This tip may sound like a weird item to pack, but it is essential and will do you justice. The wet environment can become a little funky over time, especially if it is not getting enough ventilation and fresh air for drying. As such, the tents and their surroundings may get moldy, so having a refreshing scent will let you enjoy a little more.
Camp With Proactive People
Camping is great, but camping when the ground is wet, having the right group of people is ideal for creating the best memories and experiences. They will know how to make the best of any situation, and having a list of backup activities in case you can't go outdoors is also a wise option.
Other posts you may enjoy: