Wisconsin
Complete Guide to Buckhorn State Park
We may earn money or products from the companies mentioned in this post.
Spread over8000 acres, Buckhorn State Park is one of the largest state parks, packing in 1600 acres of Buckhorn Wildlife Area and some 2200 acres of Yellow River Wildlife Area. This state park packs in many recreational opportunities for outdoor enthusiasts and is nothing short of a paradise for nature lovers.
It is located at the point of meeting of the Wisconsin and Yellow rivers just southeast of Necedah. It is an excellent place to get to whether you're planning a trip alone or with your family. Buckhorn has something for everyone, with varied outdoor recreation opportunities and abundant wildlife to observe.
Complete Guide to Buckhorn State Park
We've put together an exhaustive guide on Buckhorn State Park that will give you all the information you need before you make your way here. Buckhorn State Park is divided into
A Little History of Buckhorn State Park
Before the 1830s, this area of Ho-Chunk (Winnebago) Indian land was considered "unbroken wilderness."
Reports of vast stands of pine timber enticed John Kingston to the area. In 1837, he and Samuel Pilkington walked miles but found no sprawling forests.
Discouraged and believing the reports were a myth, they returned to the Portage area. But in 1838, Kingston again tried exploring the Wisconsin River starting from Grand Rapids. He found the mouth of the Yellow River where it was clear that there was more pine timber upstream which convinced them that this is where they wanted to go.
Bradley Kingston, Thomas Weston, and John Werner created a lumber company in the Necedah area after staking a claim. Lumbering has been the way of life since Necedah was established as a town.
When the lumberjacks moved on to cut down more trees, an open area was created. Settlers quickly came in and started farms. To stop cows from eating their crops, farmers set them loose in wooded areas rather than pastures where they could eat everything. This disrupted the land for wildlife by eliminating cover and food sources.
The earliest days of the Buckhorn dam are lost to history, but it's clear that change was in the air. The Wisconsin River Power Company had bought up farms near the Yellow and Wisconsin Rivers in anticipation of building a new hydroelectric facility on both rivers.
Left unkempt, the land began to follow natural succession and developed typical central Wisconsin cover of aspen, evergreen oak trees, and jack pine. This brushland habitat allowed deer and wildlife populations to increase almost exponentially.
In the late 1940s, upon completing the Castle Rock Dam, the Wisconsin and Yellow rivers backed up to form Castle Rock Flowage. The towns of Germantown and Werner became just a memory as the flowage covered most of the land where they once existed.
Though the water had transformed the area, creating a new peninsula and sloughs that would never be restored to their natural state again, in 1974 the Department of Natural Resources purchased Buckhorn with plans for it to become a park and wildlife area.
The DNR purchased 3,221 acres from Wisconsin River Power Company. Of this purchase, 2,581 acres were designated as the Yellow River Wildlife Area and 640 acres were added to Buckhorn State Park. In addition, 116 acres of scattered small parcels were acquired between 1974 and 2004 and 1,200 more in 2009.
Camping at Buckhorn State Park
Buckhorn State Park has family campsites, an outdoor group camp, 50 cart-in campsites, and even an accessible cabin for people with disabilities. (site 8)
The campgrounds, which are located off 19th avenue, have 69 family campsites, where you can go traditional camping in a tent or park your trailer. You'll find 17 standard electric sites, and 3 additional accessible electric sites.
Camping for People with Disabilities
For people with disabilities, the campgrounds also have an accessible cabin located near the fishing pier, which can accommodate up to 6 people. To reserve your spot in the cabin, you'll need to send the reservation form to the Buckhorn State Park office.
Backpacking Sites at Buckhorn State Park
The state park also has secluded sites for backpackers, most of them located near water. Sites 9, 16, and 26-29 are open all throughout the year and gives you the chance to enjoy some time close to the wilderness. You can get to these sites by boat or canoe and as opposed to family campsites, you'll find that these aren't located too close to each other.
Every site a fire ring, bench, and a picnic table, and there's a portable toilet for each cluster of sites.
See the campground map here –
Activities in Big Foot Beach State Park
If you are a nature lover, this is the place for you! Hiking, boating, wildlife viewing and so. much. more!
Buckhorn State Park Water Sports
Buckhorn State Park has canoes, rowboats, and kayaks for rent near the large beach pavilion. To get on the water you'll need to bring your own life jackets since Buckhorn doesn't provide them. You should also check with Buckhorn State Park before going out on the water to make sure that the water level is high enough to boat.
Fishing at Buckhorn State Park
Buckhorn State Park has a reputation as an excellent fishery. The wide variety of fish species found at Buckhorn offers anglers year-round action, with many great locations for fishing around the park. Some of the best places to catch fish are from off the 90-foot accessible pier near the north picnic area and by both bridges on the south shoreline.
There are two boat launches—one ramp area dock is accessible for people with mobility disabilities, as well as one on the West side of the causeway bridge.
There is a kids' fishing pond with a pier near the entrance of Buckhorn State Park on the Turtle Trail. Friends of Buckhorn stock it, and parking is allowed along County Highway G for people hiking in 300 yards or so to access the picnic shelter.
Anglers of any age may borrow basic fishing gear from the Tackle Loaner Program at our park headquarters.
Swimming at Buckhorn State Park
Buckhorn's beach has a 1500-foot long sand spit that makes it an ideal place for swimming and sunbathing.
If you want to go swimming, stick to the 300-foot swim area that has an all sand bottom. Remember that there are no lifeguards on duty, so you'll need to be careful, especially if you're going there with children.
A beach wheelchair is available for people with disabilities. Seriously, this is one very accessible park!
We put together a Wisconsin State Parks Bucket List Free Printable for you – to keep track of all the state parks and nature areas you visit.
Get it here: Crazy Camping Girl FREE Wisconsin State Parks Bucket ListDownload
Buckhorn State Park Canoeing and Kayaking
Thanks to the open waters of the Castle Rock flowage, you can also go jet skiing, boating, canoeing, and kayaking at this state park. You can rent some of these from the Friends of Buckhorn State Park. People with disabilities can also get access to a specially adapted kayak. Remember to stay near the shore, since the waters can get pretty rough when the wind is blowing.
The park has five boat ramps, one of which is on the east side of the peninsula in a quiet slough that leads to the main part of the flowage. On this path, canoeists should remain near shore to avoid rough water when the wind is blowing. The 10-stop self-guided interpretive trail will teach you about Buckhorn's wetlands.
The 1.8-mile self-guided canoe trail will get you face to face with one of the most magical wonders of the ecosystem- wetlands. Stay quiet and alert, and you might also spot some wildlife while you're at it- deer, duck, geese, osprey, bald eagle, and even sandhill cranes.
Hiking and walking trails at Buckhorn State Park
Starting from the south picnic area, the state park has 4 miles worth of trails that pass through oak woods, wetlands, and the shoreline. If you're lucky, you might also get the chance to peek at the wildlife at its best.
Barrens Nature trail (1.5 miles)
Complete with a 20-foot tall observation tower for you to relish the views when you get there, and full-colored, big signs to guide you through your journey, the Barrens Nature Trail is one of the best trails in the entire state park.
You'll also find little tidbits of information along the way- everything about the park and interesting facts about the flora and fauna around.
Buckhorn Campground trail (.53 miles)
A crushed rock trail for walking or biking leads from the campground towards the day-use area.
Central Sands Nature trail (1.4 miles)
The trail begins right beside the amphitheater near the parking lot and is a 1.4-mile long loop trail that connects to two other trails.
Glacial Lake trail (1 mile)
Winds through oak and pine forest with views of a large sand blow and connects the Turtle Trail to 30th Street.
Partridge trail (1.2 miles)
This trail connects to the Turkey Hollow and Central Sands Nature trail in the lower part of the park.
Turkey Hollow trail (1.5 miles)
If you want to get to the campsites, follow this trail for a 1.5-mile hike all the way down south. Backpacking sites are at the end of the road, which is where you'll reach after completing this short trail.
Pond trail (0.5 miles)
You'll find this one connecting to the Barrens Nature trail at the parking lot and is one of the best places to get to if you plan to view wildlife and just spend some quiet time, getting close to nature. Sit back and relax on one of the benches on your trail and take in the view of the pond and the wildlife around.
Timber trail (1.3 miles)
Parking off 30th Street. Follows old logging routes through pines and oak forests.
Turtle trail (0.4 miles)
The 0.4-mile Turtle Trail, across from the park entrance goes to a pond stocked with fish for kids to catch.
Whispering Pines trail (0.6 miles)
Short loop through pines from the Glacial Lake Trail.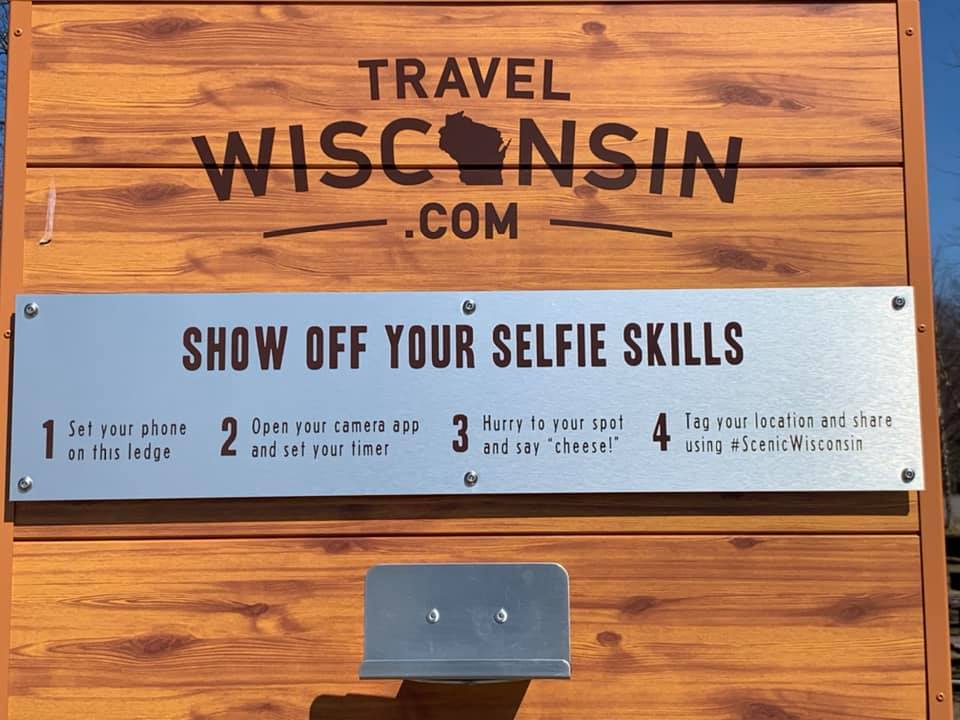 Buckhorn State Park Picnic Areas & Shelters
Buckhorn State Park has two picnic areas complete with shelters, water pumps, grills, tables, and playground equipment.
You'll also find volleyball nets set up at the picnic and beach area and some horseshoe pits near the north camp area. You can pick up a volleyball or horseshoes for the day from the park office.
Bird watching at Buckhorn State Park
Osprey are the rare gems here. Buckhorn is the furthest north they nest in Wisconsin. Their nests, made of sticks, are high on utility poles or tree branches near water and are difficult to see.
Osprey are slowly increasing in number since DDT nearly took them out – while still on the endangered list, they are gradually making a comeback.
Watch for their large wingspan and long "fish catching" legs dangling below as they soar over Buckhorn State Park. Important: Buckhorn is the only place in Wisconsin where osprey are known to nest on poles. Follow this link for more information about these endangered birds.
There are plenty of opportunities to get a closer look
Hunting and trapping at Buckhorn State Park
Hunting and trapping are allowed in the open areas of the park from September 15th to November 10th. The designated use areas, including trails, are off-limits for trapping during those same dates.. Certain trap types are restricted on state park properties. For more information, please see:
Two wildlife areas are adjacent to the park. Hunting seasons vary between the Buckhorn Wildlife Area, the Yellow River Wildlife Area and the park.
Buckhorn State Park has an accessible two-story wildlife observation/hunting blind, as well as accessible waterfowl hunting blinds in the wildlife area. If a person with disabilities wishes to use this type of blind for hunting purposes, they can reserve it by contacting the park.
Make sure you check out the State of Wisconsin Hunting Information.
Buckhorn State Park in Winter
The Buckhorn Wildlife Area is open in winter for cross-country skiing and snowshoeing. With about 6 miles in trails you are all set for fun when there is enough snow!
A sit-ski is available in winter to use on the cross-country ski trails. Snowshoes are available to check out for free at the park office and can be used in the park. For. Free.
Do you like to ice-fish? Be careful as the ice tends to change quickly – and there is SOME equipment you can check out.
Biuckhorn State Park and Dogs
Let's start with the obvious: dogs shouldn't be left unattended and you should pick up the poop. Waste should be disposed of in dumpsters or trash receptacles.
Dogs are allowed in most campgrounds, trails, roads, and outlying areas of the parks. They must be on a leash no longer than 8 feet at all times, if they are not under control at all times, they can be seized and subject to local laws pertaining to stray animals.
ID tags are a good idea if your dog isn't micro-chipped. If you do lose your pet you can contact the Adams County Humane Society at (608) 339-6700.
Rabies could be a thing as there are wild animals like raccoons your pooch could come in contact with so make sure your pooch has all current vaccinations.
Other animals like Canadian geese, herons, sandhill cranes, ducks, muskrats, beavers, otters, and mink all frequent the marshes and sloughs. Uplands are home to whitetail deer, coyotes, wild turkeys, and even an occasional black bear. Hawks and owls hunt remnant prairies and mixed oak-pine stands in search of mice, snakes, insects, and other prey.
Pets are not allowed in the following places:
Buildings
Picnic areas and picnic shelters
Beaches
Playgrounds
Marked Nature Trails
No Pets are allowed on the ski trails when they are snow-covered.
Of course, if your dog is a service animal, those rules do not apply.
Get Your Wisconsin State Park Sticker Now
Day pass or annual pass, it gets you in any Wisconsin State Park. YES, there are discounts for Wisconsin residents.
Camping fees are always additional – but less than if you didn't have the sticker.
Get it here –> Wisconsin State Park Pass Info
Vacation Rentals Near Buckhorn State Park
The pricing for individual vacation rentals near the state park range between $120-$750 per night. You'll need to do a quick search and refine the results based on your needs. Some rentals are pet friendly and some others are close to the fishing pier- it all depends on what you really prefer, and how much you're willing to shell out.
Places to Stay Nearby
Check out other Wisconsin State Park Guides
We now have a tab at the top of our site to help find them faster!
Other articles you may find interesting: